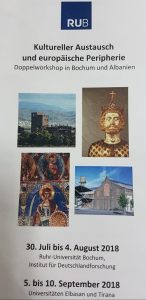 On Thursday, September 6, the opening ceremony for the Summer University was held in the premises of the Faculty of Foreign Languages, in collaboration with the Bochum University in Germany.
The meeting was attended by the Vice-Rector of the University of Tirana, Dr. Gentiana Kera, the Dean of the Faculty of Foreign Languages, Prof. Dr. Artur Sula, Prof. Dr. Brikena Kadzadej, who held their greeting speeches, and representatives from the Bochum University. Professors and young scientists from Croatia, Germany, Macedonia, Bosnia and Herzegovina, Banja Luka, Kosovo and Albania also attended the activity.
In her greeting speech, the Vice-Rector, Dr. Gentiana Kera, stated the importance of holding similar activities that help further the relations between Western Balkans researchers and help establish a significant cooperation foundation to carry out joint projects in the future.